Prague to Regensburg/Nuremberg or Regensburg/Nuremberg to Prague transfers
265km - 2h45 drive
Door to door service - we provide an English speaking non smoking driver in an air-conditioned late model vehicle.
Are you arriving on a Danube river cruise and want to get to Prague or going from Prague to Regensburg or Nuremberg?
Are you staying in a hotel in Regensburg or Nuremberg and want a ride to Prague?
We have been doing this trip for many years and will be honored to drive you too!
---
"Chris came right up to our ship iand we recognized one another right away! Lol. He was on time, very friendly and drove well. He helped with our luggage before and after the transfer. He also gave excellent restaurant recommendations in Prague. The cost was very reasonable and I would book Chris again for transfers in this area again."
---
The total price :
1 - 4 PEOPLE IS CZK 5400, EUR 215.00* OR USD 260.00*
5 - 6 PEOPLE IS CZK 6400, EUR 255.00* OR USD 310.00*
NO EXTRA OR HIDDEN FEES
Unlike some companies we always send a van (at the car price) if there are four people so you will be more comfortable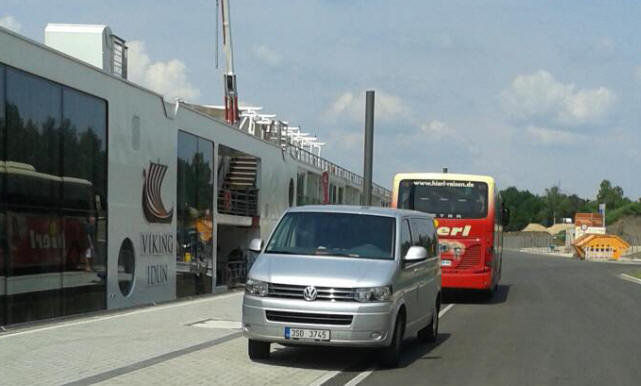 We come right to the boat!
---
Sometimes clients like to stop in Plzen on the way and visit the Pilsner Urquel brewery do the tour and have lunch this usually is an extra three hours and costs an extra USD 50.00 or EUR 35.00
If you just want to stop for lunch and a bit of a walk around it is USD 25.00 or EUR 20.00
You can also go via Cesky Krumlov - it adds about 2h45 hours to the total drive time (so 5h15in total). People usually spend 3 hours there to have a look around and lunch.
The total for this (1 - 4 people) is CZK 7500 or USD 340.00 or EUR 295.00
The total for this (5 - 6 people) is CZK 8400 or USD 375.00 or EUR 330.00
---
FAQs
We are very flexible and if you would like to stop for a short break we will be happy to at no charge, if would like to stop and visit a town on the route then we charge a waiting fee - CZK 250 for a car and CZK 300 for a van.
We want to go via a special route, is that possible?
Of course, email us for the price
Payment is made at the end of the journey in cash in one of the three above currencies
We do not accept cards in the vehicles but you may pay in advance via PayPal or bank transfer
We may ask for a deposit if you are being picked up abroad although we rarely do
Please do email me if you have any questions or if you want to book the trip
Please note the USD and EUR may change but these rates are valid January June 10, 2021 (yikes!)